If you have an old car sitting in your driveway, it's time to take action. Get rid of junk cars by selling them for cash or getting a quote for their value. Get rid of that eyesore! Sell broken cars and get paid what they are worth. Get the best price for junk cars with these 7 amazing tips!
Easy Tow Inc. is a family-run company of two gentlemen, that cares about your time and money. We know that you want the best price for junk cars, but don't have enough time to get quotes from different dealers on sites.
Easy Tow Inc. Cash For Junk Cars – We buy cars, all years makes and models of automobiles. Old car, used car, junk car, wrecked car, we buy all cars in any condition. We pay top dollar for your junk car. Same-day pickup. Free towing for your junk car removal.
Visit our website for more information on our services and reach out to us today at (708) 830-3967 for junkyard buyers near you!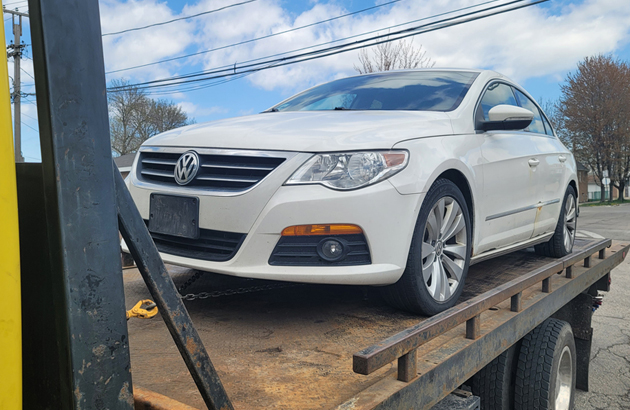 7 Ways To Get Money For Junk Cars
1. Make Sure You Do Your Research
It's essential to do some research before choosing the best junk car buyers and asking for offers. This will give you a rough idea of your car's value. Knowing the value of your scrap car will enable you to ensure that you will receive the maximum amount of cash for your junk car removal.
Compare the different offers. You will receive different offers when you contact different junk car buyers. The best thing you can do at this point is to provide accurate information about your car. You should be able to describe your car thoroughly. After that, each of them gives you an accurate quote on how much they will pay for your scrap vehicle. Choose the best offer. You deserve it!
2. Give An Accurate Description Of The Junk Car
You need to observe your junk car closely to find out how junky it is. The junk car buyer will ask you for a lot of details about the vehicle. You should be aware of this. Take a piece of paper and a pen with you.
Is your car completely immobile or can it be driven? What parts of your car are badly damaged? Are any parts of the vehicle still intact and in good condition? Do you have any spare parts you can sell? You can expect your junk car buyer to ask these questions. The answers you provide determine how much they will pay you for your scrap car.
Assess your vehicle. Note all the damage to the body, as well as the systems that no longer work. Make sure the tires are in good condition as well. You can already know how much your car is worth based on how badly it is damaged. Naturally, the more parts there are that can be used, the higher the value will be. The parts that can be sold for a profit are those that can be used.
When determining the value of your car, the junkyard owner would also consider the condition of each reusable part. The better the condition, the more valuable the car. To get the greatest value for your junk car, you should repair it and get it working. Make it roadworthy and bring it yourself to a salvage yard. When a salvage dealer discovers that your old vehicle is still functional, he may offer you a price as much as ten times higher.
3. Do A Valuation For Your Vehicle
You can conduct an online search to find a popular resource for vehicle valuation based on where you live. If you are from the East Coast, you can use the very well-known car-valuer: Kelley Blue Book can be used to determine the value of your car in good condition. They are widely regarded as a valuable resource for determining the value of vehicles.
The amount of money your junkyard will pay you is less than what you find in your valuation, but it's still worth the effort. To make the most money from your junk car, you can estimate the amount you can charge for its repair using online car valuation services. This will help you determine how much cash you should get for your junk car. Getting the most money for your junk car is key.
Repairing your car may require you to spend some cash, but weigh whether the cost will be worth it. If its repaired value would be much higher than the money you would have to spend on repairing it, you should repair it. Consider it your way of maximizing the profit from the transaction.
4. Show Paper Works For Vehicle Ownership
The buyer of a junk car needs to prove ownership. You cannot sell a junk car without presenting a title that shows you are the owner. Hence, you must present this title to the junk car buyer and sign that you have sold him your car.
Make sure you get the title of the vehicle. Even if it has already gone beyond recognition, you need to give it a title. Lawful businesses are only interested in legal transactions, so they need to make sure that the cars they are purchasing have valid documents – no matter how wrecked and useless they may be.
Your title is proof that you own the car. Junkyards will not buy your car unless you can prove that it belongs to you. As soon as you transfer it to the junkyard, you will need to sign the title over to them to get it officially off your hands. Despite having nothing to do with the car, you will technically own it even if you don't sign over the title. This helps to ensure that the transaction will proceed smoothly.
5. Recheck The Vehicle
Make sure you remove all your personal belongings before you sell your junk car, as some of your very important items may have fallen off in your car, either under the seats or under the mats. A notebook in the seat pocket or an old iPod in the glove box are easy to forget.
Also, try tucking your hands under your seats, checking under the floor mats, and opening your trunk. Be sure to remove every personal item from the car before you sell it. Included in this are your license plates. Before you part with your car, make sure all these are removed.
Wanting to "Sell Car To Junkyard Near Me?" Give us a call today at (708) 830-3967
6. Know The Regulations For Salvaged Vehicles
To ensure that you comply with the law, determine the salvaged vehicle regulations in the state where you live. Each state handles these matters differently. Regulations are constantly being amended. Contact a local attorney for more information.
Learn which protocols you should use. When you sell your junk car, you should learn the procedures the buyer uses to remove the car from your yard. Sending an expert to the field to inspect the vehicle is the most effective way to get it. Other companies will pay you more for having the scrap car dismantled and transported to their facility.
Your junkyard will pay you more money for your car if it is not badly damaged when you drive it there. If you do not have time to do this, work with junkyards who will pick up the car even if you are not available. They will not charge you for this service.
7. Choose The Most Convenient Option
You need to figure out the most convenient option for you to get top cash for junk cars. Take the option that works best for you. You can expect to get more money for your junk car if you can drive it to the junkyard. Don't dismantle the car if you've never done it before. Take your time when looking for junk car buyers. These people will give you a fair price for your scrap car if you are not selling it off due to an emergency.
When arranging for the junkyard to pick up your car, make sure they are flexible enough to accommodate your schedule. The dealer should be willing to send a tow truck to your place if your car ceases to work. As long as you live nearby, he or she might be willing to do it. If you live far from the dealer, then he might have to reduce the price.
You got to "Get Rid Of Junk Car". Your junk car may be worth something to someone looking for a used vehicle. Junk cars are often in demand because they're usually easier and cheaper than repairing them, so the money you get from selling your old car can go towards buying a new one.
If you want to sell an old clunker with cash on hand, check out our list of Scrap Car Buyers Near Me! We'll help make sure that your unwanted vehicle is disposed of properly while also providing useful advice about how much it's worth when we have more information about its condition.
You can sell broken cars for cash and get rid of them fast. We make the process easy by coming to you, buying your junk car on the spot, and paying you cash in hand. We'll take care of everything from there – including all paperwork and legalities involved with selling a vehicle. So what are you waiting for? Get started today!
Visit our website for more information on our services and contact us today at (708) 830-3967 for junkyard buyers near you!
Other Articles We've Hand-Picked For You: